Parliamentary aides showed up to work on Wednesday in skirts and dresses in protest after one of their coworkers was not allowed to enter the Knesset because the guards deemed her skirt "immodest."
The organized protest brought on the expected result: over 15 were detained or barred from entering the Knesset due to wearing what was deemed to be "inappropriate attire."
Several other aides and advisors joined their colleagues, themselves refusing to enter in protest. MKs Yael German (Yesh Atid) and Ilan Gilon (Meretz) tried to help out the women, but to no avail, and aides were left outside.
But it was MK Manual Trajtenberg (Zionist Union) who really gave the establishment the cold shoulder, taking off his dress shirt after his female assistant was asked to remove her coat so that the length of her skirt could be assessed. "'If I can enter the Knesset like this, so can you," said Trajtenberg, receiving a round of applause.
MK Shelly Yachimovich (Zionist Union) came out against the dress code. "Detaining parliamentary workers is very severe and constitutes an invasion of their privacy, in addition to being humiliating and aggressive," she wrote. "The Knesset Speaker and his emissaries' feigned innocence in claiming this is merely enforcing policy is truly hypocritical," she added.
The first to be detained for her sartorial choices was Shaked Hasson, aide to Zionist Union MK Merav Michaeli, who was stopped at the entrance to the Knesset on Sunday.
Hasson insisted she and her friends were not being provocative on purpose, despite the Knesset issuing a response to the contrary.
She explained that when word got out on Wednesday that other women were being detained for the same reason, she and several other Knesset workers, including MKs, came out to in a show of camaraderie. "We went outside to show support, and to say that the Knesset will not have a Taliban," said Hasson on Wednesday.
"People should be able to enter without others measuring (a certain number of) centimeters above their knees," she continued. "Today, we suddenly got a new directive from the visitors' center, saying that the standard is up to 5cm above the knee. Well, it isn't. This is outrageous and should not be the standard."
Michaeli joined her aide in the fight against discrimination, sending a letter on the matter to Knesset Speaker Yuli Edelstein (Likud), Knesset Legal Advisor Eyal Yanun and Legal Aide to the Knesset Administration Nurit Elstein. Michaeli claimed that a previous inquiry attempt with Edelstein went unanswered.
"I turn to you with the intent of stopping the radicalization that is taking place at this very moment at the entrance to the Knesset building," wrote Michaeli, explaining that many parliamentary aides are forced to remove their coats or step out of their cars so that their outfits may be scrutinized.
"The Knesset Guard's enforcing of a dress code has gotten out of proportion," continued Michaeli. "It harms the ability of both male and female MKs to do their jobs. I ask that you intervene to stop the harsh radicalization currently taking place, allow all advisors in and set up a meeting to clarify this matter."
The Knesset responded to the protest, saying, "Today's event was no more than a premeditated provocation that respected no one. Despite this, and as opposed to several reports on the matter, all aides were allowed to enter, apart from one. The women and men of the Knesset Guard standing at the entrance are dedicated to their work, which they do based on a dress code that has been used at the Knesset for years, which aims to protect the Knesset's dignity and distinction."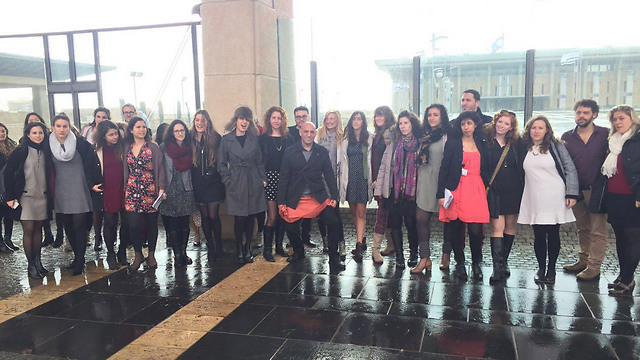 Six hours after the first woman was stopped from entering the Knesset on Wednesday, all the parliamentary aides were allowed to enter.
Following the protest, Knesset Speaker Edelstein announced he will set up a taskforce that will examine the current dress code during a meeting with Knesset director-general Albert Shacharovich and nine MKs.