Summary
The Bakken currently produces over 1 million barrels of oil per day, but only has approximately half a million barrels of pipeline takeaway capacity. The rest is shipped by rail.
The Dakota Access Pipeline will initially add 450,000 barrels of oil takeaway capacity upon completion. This will displace most rail transportation, which is much more expensive.
Bakken oil pricing averages a discount of $5 to $8 per barrel to West-Texas_intermediate pricing. This gap in pricing is expected to close upon completion adding cash-flow to Bakken producers.
It looks like despite all the protests over the last few months the Dakota Access pipeline is going to actually get built. The Trump Administration signed an executive order a few days ago to fast track the Keystone pipeline and the Dakota Access pipeline. Now, the Army Corp of Engineers has approved an easement under Lake Oahe. And the Washington Post is reporting that the Trump Administration plans to give the final approval for construction this afternoon to Energy Transfer Partners (NYSE:ETP).
This pipeline has been in the news because at one point thousands of protestors fought to prevent the pipeline from getting a permit to cross near Indian lands in North Dakota. The harsh winter has reduced the number of protestors to a few dozen. It is ironic that Tribal leaders now want the protestors to leave so the campsites can be cleared before the snow melts and spring flooding creates an ecological disaster from waste and debris.
While Energy Transfer Partners will obviously benefit from the cash flow the pipeline will bring, so too will all Bakken oil producers. The Bakken produces over one million barrels of oil per day according to the Director of the North Dakota Oil and Gas Division. Hundreds of thousands of barrels of oil are shipped by rail from the Bakken. Rail is a much more expensive way to ship oil than by pipeline. Despite what the protestors may think, shipment by rail is also more environmentally unfriendly than shipment by a pipeline. Train crashes have resulted in spills and spectacular fires costing lives. Also, it takes a lot more energy to ship by rail than by train, hence part of the added expense.
Prices could improve in the Bakken if the controversial Dakota Access pipeline is approved and built in the near future. The pipeline will initially add 450,000 barrels of oil takeaway capacity from the Bakken to refineries in Illinois. That can be expanded in the future to 570,000 barrels. This will help close the pricing differential Bakken producers face providing more cash-flow per barrel to producers. The key point for all Bakken oil producers is if the pipeline is built, then the differential with WTI prices will significantly narrow. This will raise the cash-flow and value of all Bakken oil wells.
Below is a look at the route of the Dakota Access pipeline. It is represented by the red dashes: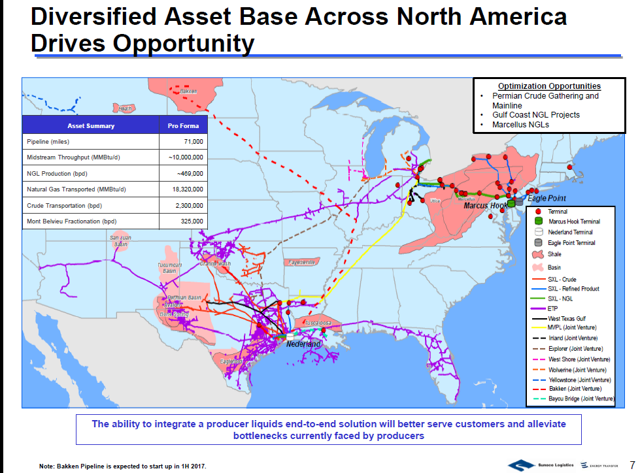 The Bakken survivors will get a much needed boost when the pipeline is completed. Oasis Petroleum (NYSE:OAS) will be one of the biggest beneficiaries due to its high concentration of Bakken production. Oasis quickly raised cash when the downturn hit helping it survive the bust. Another beneficiary will be Whiting Petroleum (NYSE:WLL). Whiting made a big mistake completing a merger with Kodiak after the bust hit, but has managed to survive. Continental Resources (NYSE:CLR) at one time was the largest Bakken producer and still has a large amount of Bakken production. Other companies with exposure include Exxon Mobil (NYSE:XOM), Statoil (NYSE:STO), and Marathon Oil (NYSE:MRO). There are also a few small producers hanging on who will benefit from the pipeline.
Investors can benefit from the pipeline completion directly in Energy Transfer Partners. But they can also benefit indirectly by finding opportunities amongst companies with large exposure to the Bakken. Some of these companies have large amounts of debt and investors should do their own due diligence before making any investments. Also, there are calls for more protestors and despite the approvals, completion of the pipeline is still not a sure thing.
Disclosure: I/we have no positions in any stocks mentioned, and no plans to initiate any positions within the next 72 hours.
I wrote this article myself, and it expresses my own opinions. I am not receiving compensation for it (other than from Seeking Alpha). I have no business relationship with any company whose stock is mentioned in this article.